Programme Booklet Collection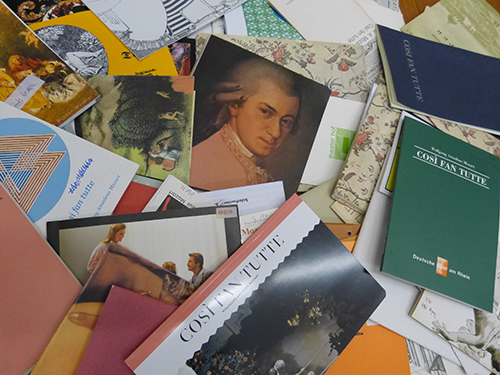 The heart of the fimt archive is its collection of music theatre programmes, which has been growing continuously since fimt was founded. For a long time, the booklets were stored unsorted and largely unseen in provisionally marked boxes. In 2013, over two two-day work sessions involving about 15 students each, a large part of the collection was sorted alphabetically by main author (usually by composer) and work title.
The programme booklets come from donations and estates (including those of Klaus Barnikol and Robert Didion). Several theatres regularly make their programmes available to fimt free of charge as specimen copies (e.g. Komische Oper Berlin or Gärtnerplatztheater Munich) or have even donated closed collections to the collection (e.g. the Rostock People's Theatre).
The fact that no other institution comprehensively collects theatre and opera programmes underlines the uniqueness and importance of the fimt programme collection.
The programme booklet has also received little attention in (music) theatre research. Consequently, the Institute is currently preparing a third-party funded project for basic research. The source type 'programme booklet' is to be examined exemplarily for its usability in theatre studies. In the process, a database will be created in which the archive holdings can be searched for the most important data (work, artistic personnel, original contributions).
The collection in numbers
The programmes are stored in archive boxes and suspension files. The collection now comprises almost 550 archive boxes for about 350 different works, besides 3 364 suspension files (including 489 operettas, 2 404 operas, 132 ballets, and 339 musicals). The total holdings amount to about 20 000 booklets.
The holdings

The aim is to systematically index the holdings in a database. Meanwhile, we can provide directories of the work titles for which programme booklets are stored in the archive boxes and suspension files. The files are working files and may still contain typing errors. At the moment, a list of programme booklets for ballet productions is nearing completion.

The PDF file is sorted alphabetically by composer. The search function (Ctrl + F) makes it easy to navigate through the files. As only the number of archive boxes for a work is given, you are welcome to contact the student assistant with your specific enquiry about the holdings.
If you are interested in the collection, would like to use it for your own work, or would like to hand in programme booklets for this purpose, please contact Sid Wolters-Tiedge.
In order to do research on site, please register at: fimt.thurnau[at]uni-bayreuth.de
Donations and bequests

We are grateful for numerous donations and bequests that have enabled the collection to grow to what it is today:
Donation by Klaus Baberg

Bequest from Klaus Barnikol

Bequest from George Cunningham

Bequest from Robert Didion

Donation by Prof. Dreger (via the University of Siegen library)

Donation by Klaus Frankl

Donation by Stephan Jöris

Donation by Roland Kluge

Donations by Katharina Milanollo (Richard Wagner Verband Linz)

Bequest from Sigrid Neef

Donation by Barbara Pessoa

Donation by Peter Rieder (Freunde des Linzer Musiktheaters)

Donation by Volkstheater Rostock

Bequest from Siegfried Schoenbohm

Donation by Dietrich Watzdorf

Bequest from Erika Zwanzig

and many more